I'm taking a break from papers now, a quick breather from the 16,000 words I very, very foolishly put off til the end of the month (jesus christ, new levels of "terrible life decisions" there.
My roommate's in London visiting (She's studying science in Edinburgh). I think her presence, and the new medicine I have for my head, have kept any nervous meltdowns over this work from reaching the borderline Chernobyl levels they were at last semester. Last night, we went and saw "Singin' In the Rain" at the Palace Theatre. It was
so much fun
. She'd never seen the movie before.
When I'm back in the States (or when my VPN works...) I'll post the youtube video of Joseph Gordon-Levitt performing "Make 'Em Laugh" on SNL. I'd wanted to show my roommate when we got back to my flat, but alas, it's not available in this country.
I wish I could find an electroswing remix of "Singin' in the Rain" that I love as much as I do the electroswing mix of "Honey Pie/I'm Coming Virginia" and/or "I Wanna Be Like You." There's one I found on youtube that's good, but not as close to the song as I'd like. I wish I knew enough about the program to make one myself. That could be a potential summer project, if my internships don't happen.
(
More on JGL and The Great Gatsby
Collapse
)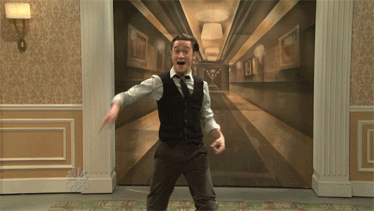 I'm alive! And when I do genuinely have the time, I'll update my layout and icons so that this is a less hideous journal.
Current Location:

in my flat

Current Mood:

in denial of how screwed I am over these papers

Current Music:

Singin' In The Rain - Gene Kelly
Here's the link
to the imdb page (of the movie I actually saw). It was really interesting. It was entirely in Russian, with English subtitles.
The friend that took me to the event speaks Russian pretty fluently. She's been trying to teach me in exchange for some Italian. It isn't the most effective learning experience, but it's fun. She's trying to teach me sign language simultaneously, but that's in the lap of the gods.
I officially declared my hiatus from tumblr last night, because I believe it's the most responsible course of action to help me get my affairs in order. I may pop on specifically to ask questions of people, because frankly I'm not sure how to contact a few people off tumblr other than their blogs. For instance, for my creative writing piece, I have an idea for a character I'd like to work with, but I'm not sure how to put her in a feasible situation, if that makes any sense. :/
I'm off to CVS with a few people to grab some cough drops and sudafed. I've caught a nasty cough/cold already. I'm curious, anyone on my f-list not from the U.S., how do you refer to your pharmacy? I've seen some terms: chemist, apothecary. But Americans generally use "drugstore."
So, last week, I went to a screening of a 1920s Soviet musical comedy called "Jolly Fellows." I looked around on youtube for the trailer, but what came up was entirely different (something about transvestites in Moscow).
Current Location:

campus

Current Mood:

sick

Current Music:

I'll Hold My Breath - Ellie Goulding
I went out to watch this past weekend with a few friends. Last semester, I went to one (and my first!) derby last December with one of them. This time we were a little late. We got there at halftime in the first of two bouts, but it was alright. Roller derby looks like a lot of fun. It's definitely a contact sport, but not nearly as bad as "Whip It!" makes it out to be. The DC Rollergirls are made up of four teams: Scare Force One (whose members are called "Fright Attendants" XD), Majority Whips (also awesome), Cherry Blossom Bombshells, and the DC Demoncats.
It's really fantastic what some of the Rollergirls are named. Most have a political edge (this is Washington) and it makes it all the more hilarious. I heartily recommend googling the DC Roller Girls, but I've included some favorites under the cut.
(
"And up next- she'll open a can of Prehistoric Whoopass on you, clever girl. Number 65 million - Velocityraptor!"
Collapse
)
Hello, all! I hope everyone is having a lovely week! I figured I'd use the somewhat free time/break from reading to write more about my roller derby adventure.
Current Location:

dorm

Current Mood:

relaxed

Current Music:

Bedroom Hymns - Florence + the Machine
Current Location:

Dorm room

Current Mood:

tired

Current Music:

Death - White Lies
I've discovered the fantastic blog,
"I Love History XO"
, where the blogger takes famous historical figures and uses them as inspiration to design themed outfits. I think it's very cool. Another blog that does the same with literary/ pop culture figures is
textbook
. I may dabble in that in the future, perhaps in a lag at uni (if there is one). My issue is that a lot of the stuff I'd want to use would be things I've encountered around in the Italian boutiques here, and it'd be difficult to find those on polyvore. :/
I'm traveling again, so I won't be back til Friday. When I get back, I'll look around for friending memes. My journal's more than a bit sad at the moment, lol. I hope everyone has a wonderful week!
I wish I could muster the right amount of enthusiasm for Pottermore. It sounds like something I would've happily jumped on the bandwagon for earlier in the year (perhaps earlier in the summer!) but I don't need another thing to be addicted to on the internet. :(
Current Location:

home

Current Mood:

bummed to be missing SharkWeek

Current Music:

This Too Shall Pass - Maria Mena
here
.)
I got a new black leather jacket in Florence, along with an adorable dress, a pretty journal, and some really cool stationary/wrapping paper (I have a handful of projects in mind for when I get back to uni). It was a really draining excursion, though.
I got the journal to shake free some of the ideas rattling about in my head. I've started to write again. None of it's any good (still a bit rusty!) but there may be some decent stuff to follow.
I have so much to read! I may reactivate my Goodreads account, though during the academic year I'm afraid my activity on it will drop. :( Right now I'm in the middle of
Daughter of Fortune
by Isabel Allende. After that, I plan on reading
The ABC Murders
by Agatha Christie and
Bridge Over the Drina
by Ivo Andric.
Tinker Tailor Soldier Spy
by John Le Carré and T.E. Lawrence's 1922 manuscript,
The 7 Pillars of Wisdom
are being shipped to me at this very moment. :D
I admit I'm not very familiar with the genre of
Tinker Tailor Soldier Spy
. The trailer for the movie remake that's coming out in September looks fantastic, and I'd love to have read the book beforehand. Bookstores, libraries, and movie theaters are perhaps what I miss most about the United States.
(
Trailer for TTSS under the cut!!
Collapse
)
Hi! I'm on a brief break from holiday travels. I hope everyone's weekend is going swimmingly. (A friend and I recently investigated that weird word. We found a fascinating answer
Current Location:

home

Current Mood:

tired

Current Music:

Movie: The Man Who Knew Too Much


One issue I'm having with White Collar, however, is that of Sarah, whose character makes no sense. She tells Neal she won't cross a line into criminal activity, and then happily spends stolen money with him. And then Neal is uncharacteristically sloppy in regards to leaving the safe open and later the unprotected laptop. :/ Which brings up another issue - Sarah flips out that he moves a box off the bed, because "some things are private", and then snoops around on his laptop. I liked Alex a lot more than "Insurance Investigator Barbie," which is a shame because considering their occupations, they could've had a really interesting dynamic. Instead, it was just kind of cringe-inducing to me. I don't love Alex or anything enough to bias my impression of Sarah. Nobody with Neal has become my OTP of the show. (My OTP of the show would probably be Peter/Elizabeth anyway. The Burkes are ADORABLE). Anyway, Sarah's leaving did not bother me in any way.


I love White Collar. I love most of what USA airs (I bet I'd love more if I watched more. So far, I'm in love with In Plain Sight, Psych, Burn Notice, and White Collar. Covert Affairs comes heavily recommended but I haven't had the time). White Collar is fast becoming my favorite. Plots involving Catherine the Great's Amber Room? GERMAN U-BOATS? Art thievery? FEDORAS? This show is wonderful.
Current Location:

home

Current Mood:

cold
Current Location:

home

Current Mood:

busy
I miss working. I found office work to be rather eventful and interesting, actually. In light of that realization, and a hilarious blog entry I recently found, I bring you
The Executive Coloring Book.
There's also:
& THE GAME OF SHADOWS TRAILER HAS BEEN RELEASED ON ITUNES. IT CAN BE FOUND
HERE
. I'm excited, but I really, really wish Rachel McAdams was in it. :( My love for Robert Downey, Jr. and Jude Law only grows.
So, I've got about 5 people coming to meet with me to hang out on my birthday. That looks like it's going to be a lot of fun and I'm excited for it.
& On the way back from Vietri, which is 2 and a half hours by car, the engine oil warning light came on and we had to make an emergency stop, but we were near the American community in Naples so that was fine. I actually got to see X-Men: First Class! (It didn't come out in English in Rome, at all). I liked it a lot more than I thought I would. I've also become aware of what I perceive to be a binary (that may not actually exist). I've grown up on DC comics. As a small kid, I spent a lot of time living in areas that didn't have English cable or cartoons, so I got my cousin's hand-me-down Batman cartoon tapes (this was the 90s), and some (very few) cheesy Spiderman cartoons. Around 2003-4, I lived on Guam, which had limited cable, but did have cartoon network. I had Justice League. Most of my friends at university would watch Saturday morning cartoons, or just W-B, and thus had mostly Marvel-verse cartoons (Iron Man, Spiderman, Fantastic 4, X-Men). I'm generally a fan of superheroes, but I had never seen any X-Men movies before with the exception of Wolverine: Origins, which I personally thought was awful.
I was blown away by both James McAvoy and Michael Fassbender, particularly Fassy. It was a bit jarring at the end to see the Holocaust survivor, total badass Erik Lensherr decide he wanted to be called by a name thought up by a bunch of kids, but that's outweighed because it's obvious they're following comics there and that's something to be proud of (though I understand they also broke from canon in some areas). X-Men is a lot more political than the other superhero movies that spring to mind (well, I guess Marvel in general, when I think of Iron Man as well). Nolan's prided himself in keeping Batman as close to realism as possible (given a vigilante dressed up as a bat and an insane clown villain), but I kind of feel that X-Men goes deeper in the political motivations (which is really cool), because the mutant issue makes that important. This is just my impression, of course.
Sorry for my inactivity, again. I'm finished with my internship, so now I'll just be going off on random adventures. Last Monday I went to the small town Vietri Sul Mare, which is known for its gorgeous pottery. I took a bunch of pictures with the Lumix I got for my birthday (which is technically Thursday, but I've gotten a lot of fun presents before as presents are arriving in the mail). I lent my camera to my father, though, so I'll have to upload the pics later.
Current Location:

Rome

Current Mood:

excited

Current Music:

Shark Week: Great Bites